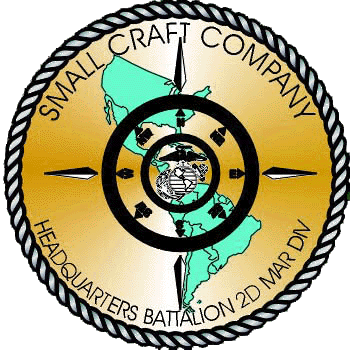 Major John R. Shafer
Small Craft Company Commander
May 1999 - June 2001
Major Shafer enlisted in the U. S. Marine Corps Reserve in January, 1983. He was assigned as a reconnaissance scout, assistant team leader, and a team leader with Deep Reconnaissance Platoon, Company D, 4th Reconnaissance Battalion, 4th Marine Division, where he participated in numerous exercises and deployments. He was released from the reserves in 1988 as a sergeant. Major Shafer was commissioned as a Second Lieutenant via the PLC Program after gradutating from the University of New Mexico in December, 1988.

In January, 1990, Major Shafer was assigned to 1st Battalion, 2nd Marines for duty as a rifle platoon commander, weapons platoon commander, and rifle company executive officer after completing the Basic School and Infantry Officers Course in Quantico, VA. While assigned to the battalion, Major Shafer participated in Operation Desert Shield and Desert Storm. He also compled a deployment to Okinawa, Japan as a part of the Unit Deployment Program.

In December, 1991, Major Shafer reported to 2nd Force Reconnaissance Company for duty as a reconnaissance platoon commander, Detachment Officer-in_Charge, and later as the Parachute/Dive Officer and Assistant Operations Officer. While serving as the 22nd MEU (SOC) Force Reconnaissance Detachment Officer-in-Charge, Major Shafer particpated in Operation Provide Promise in the former Republic of Yugoslavia.

In October, 1994, Major Shfer proceeded to the Royal Netherlands Marine Barracks in Doorn, Netherlands, for duty as the USMC Exchange officer after completion of the Dutch Language Course at the Defense Language Institute in Montery California. While on the Exchange Program, Major Shafer participated in several NATO and Partnership for Peach exercises in Norway, Western Europe, and the United Kingdom.

Major Shafer completed the U. S. Army Infantry Officer Advance Course and reported to 2nd Battalion, 8th Marines for duty as a Rifle Company Commander in May, 1997. In May, 1998 he served as the Assistant Operations Officer, 8th Marine Regiment.

Major Shafer is married to the former Sally Ann Soggs of Utica, New York. They have three sons, Ryan, Reed, and James. Major Shafer is an endurance sports enthusiast and a long distance triathlete.